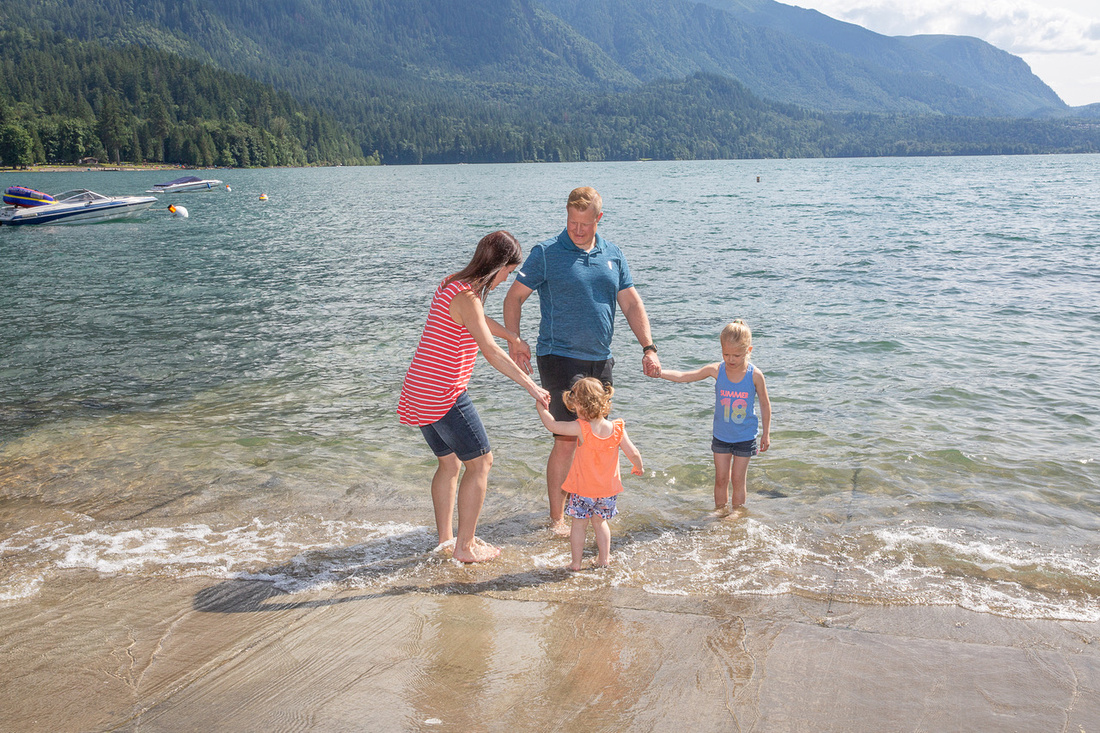 The sun is shining, the breeze is hot, the A/C is on...it's summer, all right. This is a prime time of the year when families get together after months of not being able to see one another. Who knows what the rest of the year will bring?
Have you ever wondered if there were other places to get summer photos of your family taken, other than the obvious park or beach? While these two options are always a popular choice for many reasons, it never hurts to think outside of the box every now and then. I've been taking some unique pictures lately, and I'd love to share my ideas with you. So with that in mind, here are five creative summer photoshoot location ideas for your consideration.
1. Farm and/or barn
There's something about farms and barns in the summertime when the colours pop and the imagination runs wild. Can you already smell the hay and wildflowers growing in the fields mixed with that summer heat? Can you picture in your head the farm animals out and enjoying the sunshine? Maybe there's a horse letting you ride its back?
Rural photography has its place in the world. There's something nostalgic about these places. Some of my clients have spent their adult lives in the city but started their childhoods on the farm. Some have even learned to ride horseback. Whatever your reason may be for choosing this summer photoshoot location, I can guarantee you we can get some creative and memorable shots.
2. Berry picking
Our beautiful beaches are not the only thing our province is well known for. Summer in BC is a berry lover's paradise, resplendent with fields of every kind you can think of. Blueberries, blackberries, strawberries, raspberries...you name it, it's probably growing here.
Why not pick up a bucket or two and take your kids out into the fields for your next photoshoot? Not only will you get some colourful pics taken, but also at the end of your session are some sweet, natural treats the whole family can enjoy.
3. During camping
At the lake, by the sea, by the river...much like the beach, BC's Lower Mainland is filled to the brim with many a camping trip hotspot. It's always a good idea to break away from the busyness of the city and get back in touch with nature. That's why camping has always been such a popular summer activity here!
Bring your family's favourite activities into your summer photoshoot. Maybe it's toasting marshmallows over a fire for s'mores. Maybe it's blowing bubbles when there's a breeze. Maybe it's getting your toes wet while dangling your feet over a dock. Whatever you enjoy doing while camping or however you relax on your trip, getting photos taken by a professional photographer will remind you of the things most precious to you: those moments you've spent with your loved ones.
4. A winery
Berries are not the only crop worth noting in BC's summertime. Some varieties of grapes and apples ripen in late August and early September and are turned into wine and cider. There are plenty of wineries in BC that also use the berry harvests to their advantage and create some unique flavours.
The exteriors of these wineries can make for some excellent summer photos. Even if access to the inside of wineries is limited (tasting rooms have reopened with protocols in place), there's no harm in exploring these places.
5. At a river
While lakes and beaches are fine and best known for their calmer waters, rivers are often overlooked as photo options. However, I see rivers as a great opportunity, as much as a sunset or any landscape where it's cloudy but bright. Like the other bodies of water, a river can cool the summer air down and make you more comfortable when moving around in the heat.
There's something about water in motion that really speaks to me as a photographer as well; it's much like life, on the move and always changing, but with a flow that one can't help but go along with. Maybe you feel that way too around rivers and want to capture that kind of reflection on camera?
All of these great photo location ideas can be found near Port Coquitlam and in the surrounding areas of Vancouver BC. If you're looking for a professional photographer to capture your summer memories and you love these ideas, there's still some time yet before the season is over. Give me a call and let's make a plan for your summer photoshoot...and then make that magic happen.
Creative Commons Attribution: Permission is granted to repost this article in its entirety with credit to Photos by Cheryl and a clickable link back to this page.