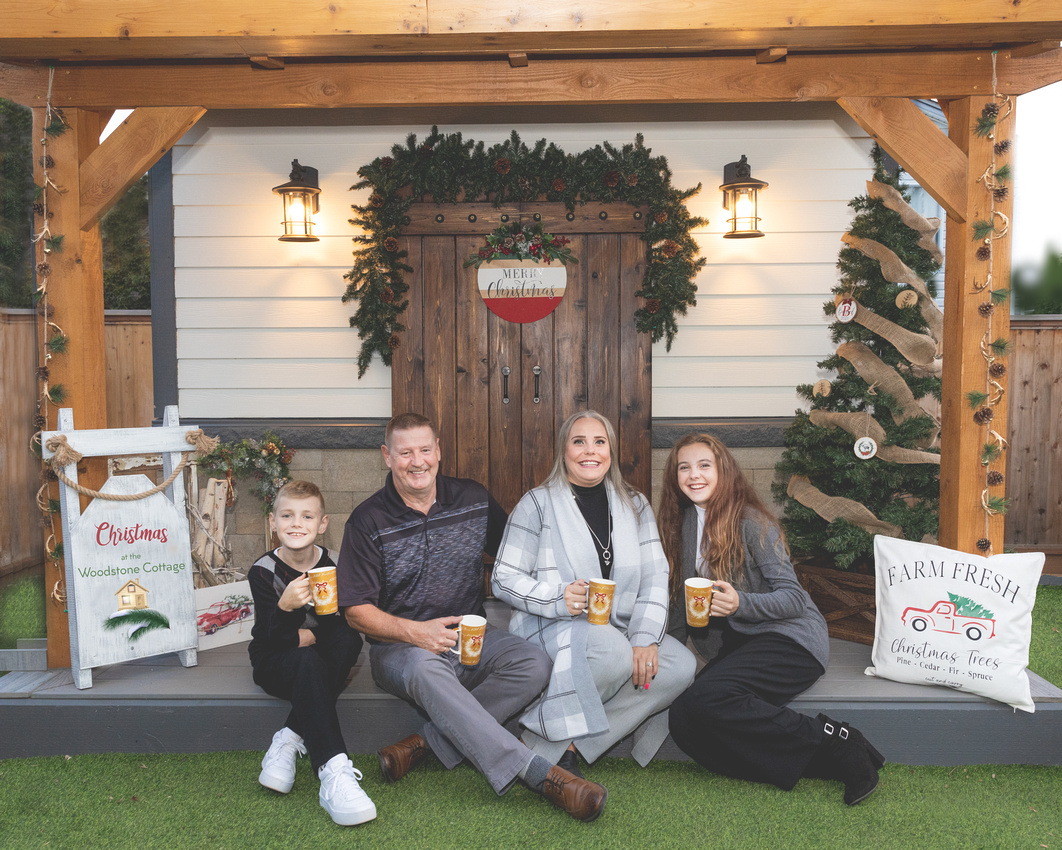 If the headline confuses you, I have an excellent reason to talk about the subject now as opposed to later. You can read all about that in my blog post, "Why Plan for Christmas Family Photos in October?".
If you can't wait for Christmas to arrive, why not plan early for it? Moreover, if you love the idea of outdoor Christmas photos, why not go with the Porch at Woodstone Cottage? This newly built set consists of studio quality decoration and setup for professional outdoor photography.
If you like this idea but you're not sure what to expect, that's why I wrote this article. Here's exactly what you can expect from Christmas sessions at the Cottage.
New props
One of my favourite things about the holiday season is the feeling of togetherness and teamwork, especially when it comes to creating a festive atmosphere. Last year I teamed up with a local business to create custom handmade keepsakes that families could take home with them post photoshoot. This year, the sentiment is the same, only the company is different. This year's props are specially crafted and designed courtesy of Perfectly Imperfekt Decor.
I think you're going to love what's in store. And the beautiful thing about Christmas at the Cottage is you can reuse those handcrafted gifts you received the year before. Let me know if you'd like to have them featured in this year's family Christmas photos. The more meaningful and uniquely yours, the more special your photos will be.
New reasons for outdoor Christmas photos
A big reason why I wanted this year's Christmas photos for clients to take place at the Woodstone Cottage is because of one crucial element: coverage. Your heads will be protected from the weather, so even if the day decides to rain or snow, there's no need to cancel your photo session. Rest assured, you'll get your money's worth by following through with an outdoor session here. So long as you dress properly for the occasion when the weather's anything other than sunny, you'll have a good time. And you never know, if your kids have been dreaming of a white Christmas, that magic can potentially happen at Woodstone Cottage!
New ways to celebrate family
I'm a fan of giving experiences as gifts. If mom or dad have been going the extra mile for their family this year, why not take some weight off their shoulders and make this their Christmas gift? Or maybe you've had a major milestone this year; how about celebrating the occasion with photos? Photographs really are the gift that keeps on giving, because you can look at them whenever you like after the fact and have those fond memories after the fact. Christmas is truly the season of family, so think of Christmas at the Cottage as exactly that.
Let's get started
Already people have been requesting my assistance for their family Christmas photos, and it's only October! That's how crazy busy the holidays can be, so the earlier you book your session, the less stressed out you will be later on. You can book your session here and if you have any questions about Christmas at the Cottage, give me a call. I can't wait to give your holiday season that sense of joy and cheer!
Creative Commons Attribution: Permission is granted to repost this article in its entirety with credit to Photos by Cheryl and a clickable link back to this page.