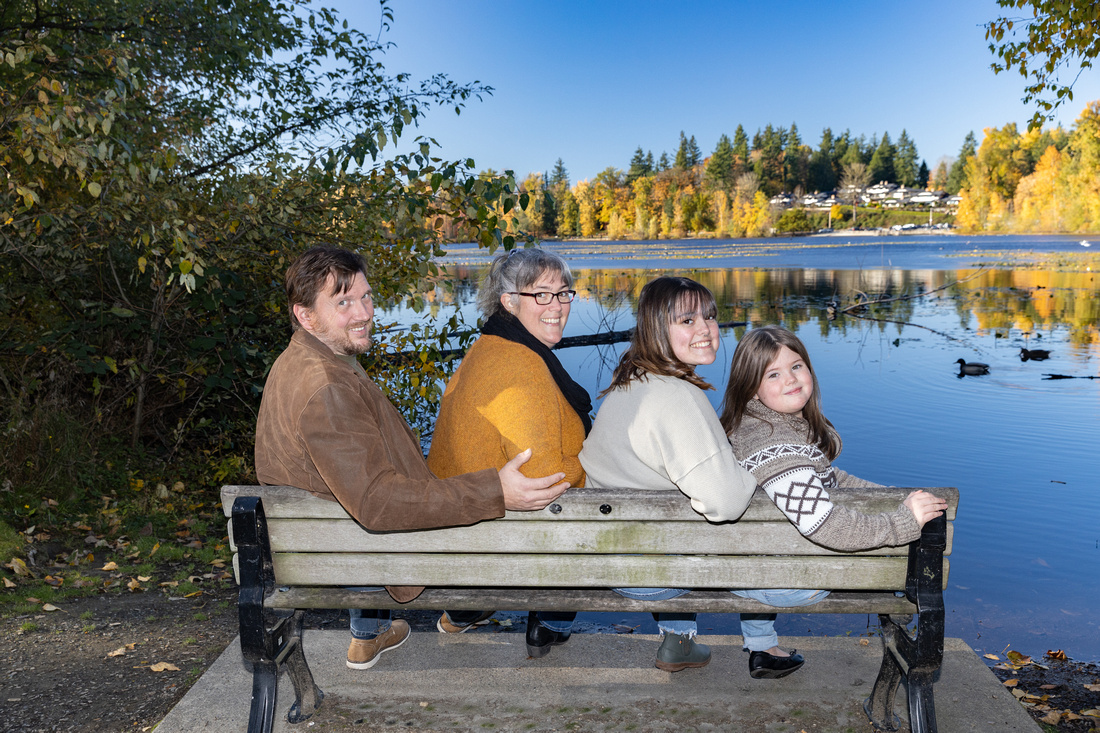 No matter what the year brings, family remains first and foremost a significant part of everyone's lives. In all my years of professional photography, I can safely say that family has always been my favourite subject.
Your family should always be worth celebrating, no matter what. How about trying these fun family photography ideas next year?
Go somewhere new
This idea doesn't have to mean packing a suitcase or flying out of the country (if you can afford to or have time however, go for it). I'm talking about somewhere new you may not have thought of before...maybe in your own neighbourhood.
Port Coquitlam BC is home to such natural splendor in the parks and at the beach. There's probably a hidden gem or two in the business areas you may not be aware of, either.
Asking me as your professional photographer for ideas and recommendations can also help you decide. Don't forget I also have the Porch at Woodstone Cottage if you'd like more of an outdoor studio setting.
Go somewhere familiar
Every family—and I mean every single family I have met—have at least one or two special traditions they love to celebrate every year. They could be traditional places to spend time together, in this example.
Where do you and your family love to go, no matter what time of the year?
A sense of familiarity can also provide you and your family with a sense of foundation and certainty, in a world that's always shifting like sand under our feet. (We'll talk more about sand below!)
So, if going somewhere new isn't an option for whatever reason you may have, go somewhere familiar where your family loves to go without fail. This fun idea can result in some fantastic photo results and opportunities both.
The beach = classic
Who doesn't love the beach? With all kinds of beaches to choose from in the Port Coquitlam and Vancouver BC areas alone, this location is a classic for family photography.
Not sure how to make the beach even more fun? Here are some ideas:
Picnicking by the shore

Tidepool trotting

Sandcastles (another classic!)

Dipping your toes in the water, or wading

Draw in the wet sand with a stick

Playing a beach game (skipping stones, tossing a beach ball, flying a kite)

Get Fido involved (beach and weather permitting)
Make this year your beach year (if you weren't able to the year before), and enjoy the photo results.
How about photos for every season?
Your family in the summertime may act differently compared to winter for sure. The same thing goes for the other seasons! Different clothes to wear, different weather to smile and play in...what's not to love?
I am proud to offer what I call the Four Seasons. You can click here to learn all about it.
This package was designed especially for families who are interested in a full year's glance of their lives during each season. Best of all, payments can be made gradually, rather than all at once. There's no other package like it.
Are there special anniversaries in every season you and your family celebrate? Be sure to include these ideas in your plan.
Pro tip before I conclude: Don't worry about poses
One thing I've noticed about a lot of photography articles is they always talk about poses—how to look while doing something during your photoshoot.
I have a crazy idea that maybe you should try: be yourself while being photographed.
To me, the best family photos I've had the pleasure of taking for clients have primarily focused on the most intimate, special moments they hadn't even considered otherwise.
Life really is so precious. So, why waste such valuable moments on scrambling to find that perfect picture on your phone yourself, when you can be in that very moment and have your memory captured forever?
Let's celebrate these stages of life
I've been a professional photographer for families, babies, weddings, you name it, for over two decades now.
I love celebrating what life has to offer. My hope is that you do, too. Would you like to celebrate with me?
Give me a call. Let's find out how we can capture your family in this stage of your life.
Creative Commons Attribution: Permission is granted to repost this article in its entirety with credit to Photos by Cheryl and a clickable link back to this page.